Industries worldwide are gearing up to the challenges of environment friendly sustainable production. Developing economies need more green products. Jetstar's new water jet rotary screen stripping machine is a big green initiative for the Indian Textile Industry.
The whole clening system comprises of three main components, the ultra high pressure pump, the passivized stainless steel stripping unit and the cooling tower.
THE HIGH PRESSURE PUMP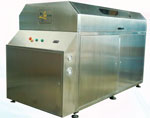 This high pressure pump include a complete hydraulic drive unit with oil/water cooler, High Pressure intensifier, Accumulator and directional control valve.
This is responsible for the constant water pressure of five waterjets and ensures 24 hours continuous with zero downtime.
THE STRIPPING UNIT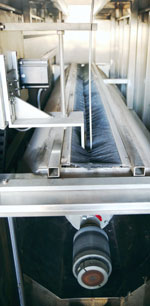 The stripping unit is made out of high quality passivized stainless steel.
The photosensitive emulsion and dyestuff in the screen is stripped through specially designed nozzles with high pressure softened water.
This water jet stripping technology not only makes each mesh 100% clean but also smoothens the generated manual wrinkles and ensures that physical characteristics of the nickel screen remains intact. Thereby making the repeated use of screens feasible.
NOZZLE HEAD

Specially designed nozzle head for high efficiency and serviceability.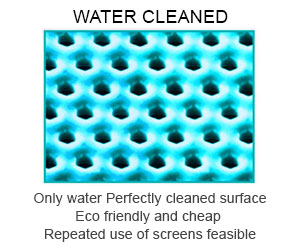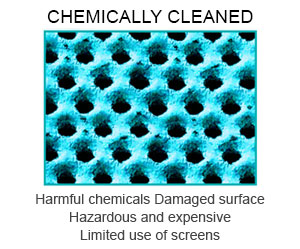 WHY CHOOSE
Sustainable and most environment friendly cleaning method.
Achieves 100% cleaning result
Ensures faster cleaning
Extended life time for screens
Quick return on investment
Withdrawl from hazardous chemical stripping
Protect the environment and employees from harmful chemicals
TECHNICAL DATA
Power
30KW, 3Phase, 50Hz
Maximum Pressure
3800 bar
Operating Pressure
2500 bar
Maximum Water Flow Rate
3.7 litre/ minute
Supported Screen Widths
JSRS 2200 -upto 2200 mm
JSRS 3500 - upto 3500 mm (with End Rings)
Supported Screen Repeats
640 mm, 820 mm, 914 mm, 1018 mm
Maximum Number of Nozzles
5
Nozzles Tip Adjustment Rate
180 mm
DIMENSIONS
Size (Approx.) Booster Unit
2286 X 1067 X 1397 mm
Weight (Approx.) Booster Unit
940 kg
Size (Approx.) Stripping Unit
3660 X 960 X 1850 mm
Weight (Approx.) Stripping Unit
1120 kg